Brother's In Law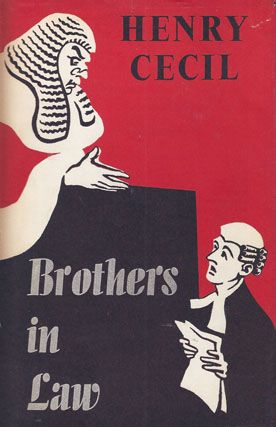 ISBN13: 004098
ISBN: 004098
Published: June 1955
Publisher: Michael Joseph Ltd
Country of Publication: UK
Format: Hardback
Price: Out of print

Out of Print
That Henry Cecil is a good deal more intimately acquainted with the law and its administration than any layman could hope to be, must already be clear to all readers of his previous books. The many new readers who, we assert, will promote Brothers in Law to the best-seller lists of 1955 will draw the same conclusions.
Some aspects of Brothers in Law might suggest it to be a work of fiction. It is important that such an idea be stifled, for as a work of fiction it might well fall flat on its face. In writing it Mr Cecil has, in fact, been sternly cautioned to eschew his fictional proclivities and to confine himself to the facts of legal life as they are likely to be experienced by any young and newly qualified barrister. If Brothers in Law has affinities, it is with Richard Gordon's pheno¬menally successful Doctor in the House, but its setting is the law and not medicine.
Brothers in Law recounts the experiences, bewildering, surprising but always entertaining, of Roger Thursby, from the moment of his final law exam until something rather more than a year later he feels he has approached at least the second rung of the ladder to legal success as a rising barrister.
The reader follows Thursby through the intricacies of his career with an understanding and tolerant sympathy as he chases his master in the law from court to court and case to case. "While the majesty of the law perhaps recedes into the background of this book, the camaraderie of the legal profession is very much to the fore and embraces all from the usher to the judge and from the most hardened Q.C. to his newest 'learned friend.'
Brothers in Law will happily occupy those con-cerned with the courts of this country for many a day. No one called to jury service can afford to neglect it. It is as likely to be quoted bv the prisoner in the dock as by the Lord Chief Justice himself. As for the general reader he will find in it entertainment of a highly diverting and unusual character.