The Queen's Orders of Chivalry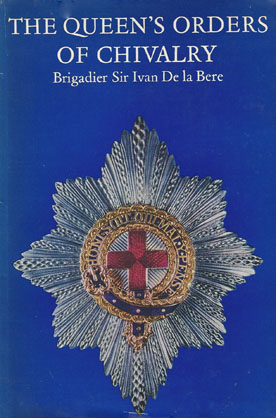 ISBN13: 004131
ISBN: 004131
Published: January 1964
Publisher:
Country of Publication: UK
Format: Hardback
Price: £20.00
(Second Hand)

Out of Print
'Then the King shall himself gird the squire with the sword and shall put his arms round the neck of the squire and lifting up his right hand shall smite the squire upon the neck, saying: "Be a good Knight" and kissing him.'
This is only one of many extracts from historical documents that Sir Ivan De la Bere uses to enliven his text, for the development and peculiarities of the various Orders closely follow the fortune of the times. A reflection on pre-mediaeval hygiene survives in the name of one of Britain's oldest Orders, that of the Bath, but the origin of the Order of the Garter and the famous phrase, 'Honi soit qui mal y pense' is perhaps even stranger.
Although historians disagree in their versions of this tale of chivalry, Sir Ivan gives them all a fair hearing, and also points out the rather curious ruling which allows a Knight of the Garter to be publicly degraded for heresy or treason but not for murder or felony.
Many famous figures are spotlighted by anecdote or incident: Sir Ivan quotes Lord Melbourne's famous remark, 'I like the Garter; there is no damned merit about it'; Queen Elizabeth I, who resented her subjects receiving foreign awards - 'my dogs shall wear only my collars'; and Robert Peel's arguments against instituting a new Order for scientists since 'it would really have conferred little additional credit on Sir Isaac Newton if that eminent man had appeared with a blue riband, a red riband or a Star upon his chest'.
Sir Ivan De la Bere was Secretary of the Central Chancery of the Order of Knighthood at St. James's Palace from 1945 to 1960; this background and Sir Ivan's precise research make this book remarkable as an accurate guide to the honours system - its evolution, present-day ceremonies and the correct manner in which the various insignia should be worn.