History and Sources of the Common Law: Tort and Contract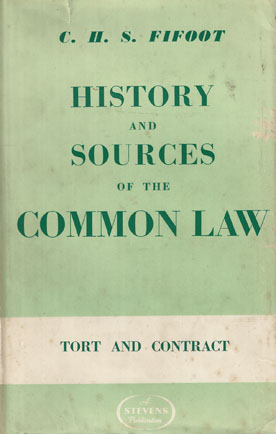 ISBN13: 004186
ISBN: 004186
Published: June 1949
Publisher: Stevens & Sons Ltd
Country of Publication: UK
Format: Hardback
Price: £40.00
(Second Hand)

Out of Print
The copy for sale has no dustjacket.
Preface This book is an attempt to follow two branches of the common law from their sources. I have not explored the manuscripts, but have confined myself to the printed materials: to the literature of the law from Glanvill to Blackstone and to the reports, with especial emphasis upon the Year Books as they have been published in the Rolls Series, in the volumes of the Selden Society and of the Ames Foundation, and in the black letter editions.
In the translation of these last I hope that, amid their ambiguities and corruptions, I have guessed aright. My debt to the acknowledged masters, to Ames and Holmes, to Maitland and Holdsworth, is obvious and inevitable and is none the less real because on occasion, in the light cast by later researchers, I have ventured to differ from their conclusions.
To provoke new and alien views is at once the penalty and the reward of genius. It will be equally clear that I am heavily indebted to such contemporary his¬torians as Professors Woodbine and Winfield, Plucknett and Potter.
I had at first intended to leave the evidence, with as little commentary as possible, to. speak for itself. But I came to feel that, in a book designed primarily for students, this course was too austere. I have therefore introduced each subject with a narrative, which may serve to provide a context for the sources and which has enabled me to refer to authorities too numerous to cite in full.
In these narratives I have been led from time to time into controversy, and I have not scrupled, when I have formed my own conclusion, to declare it. To confirm or to correct, the reader has only to turn to the sources, and perhaps, as I hope, to explore further on his own account.
In all anthologies a major difficulty is that of selection. Where, as in the present context, the history of doctrine is imbedded in the history of process, the difficulty is aggravated. While I have tried to shun the vice of interpreting the past in the light of the present, I have had to remember that the student will chiefly be interested in those phenomena which, if rather by chance than by design, have determined the character of the living law and the history of which is rich enough to justify portrayal.
This is why, on the one hand, I have not dealt with Replevin, once of great importance but now almost a closed chapter in the law, and why, on the other hand, I have omitted such torts as Fraud and Conspiracy, where, despite their current importance, historical continuity is lacking.... C.H.S. Fifoot Hertford College Oxford. May, 1949.