Palmers Company Precedents 17th ed: Part 2, Winding Up Forms and Practice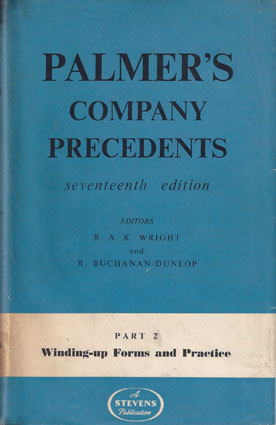 ISBN13: 004201
ISBN: 004201
Published: July 1960
Publisher: Stevens & Sons Ltd
Country of Publication: UK
Format: Hardback
Price: Out of print

Out of Print
The Editors of this edition have been entrusted with the labour of examining the Precedents in detail and of bringing the text into line with modern requirements. Theirs has been no patchwork editing-they have expunged obsolete matters, rewritten much, and reorganised the text in orderly fashion.
This edition of Part 2 has a smaller scope than the previous edition, in that it deals exclusively with Winding-up. The topic of Arrangements, Reconstruction and Amalga¬mation, which was dealt with in the previous edition, has been moved to Part 3.
The policy followed has been to set out in each chapter the statutory and other provi¬sions dealing with the topic in question as= well as the relevant cases and the necessary forms. It is hoped that in this way persons using the work will find collected in one place the legislation, law and forms on the question with which they are concerned.
Following the practice commenced in the current edition of Part 1, there have been inserted notes and references to decisions of the courts of Commonwealth countries where the law relating to companies is wholly or in part derived from and similar to Company Law in England and Scotland.