Obligations of Society in the 12th and 13th Centuries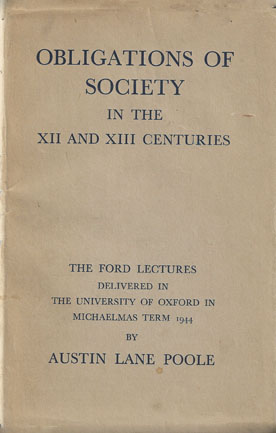 ISBN13: 004217
ISBN: 004217
Published: June 1946
Publisher: Clarendon Press
Country of Publication: UK
Format: Hardback
Price: £10.00
(Second Hand)

Out of Print
In this book are printed with slight modifications the Ford Lectures delivered by the author in the University of Oxford in the autumn of 1944.
They illustrate from contemporary records, par-ticularly from the Exchequer accounts and the records of cases brought before the king's courts, the social conditions in the central period of the Middle Ages. The first four lectures are concerned with class distinctions and with the special obligations imposed on the different classes -the peasants, the knights, and the king's sergeants.
The last two deal with pecuniary burdens in the shape of amercements inflicted by the courts oflaw and fines arbitrarily imposed by the king on his tenants in connexion with his rights, especially those of wardship and marriage, in his capacity of feudal overlord.