Not Such An Ass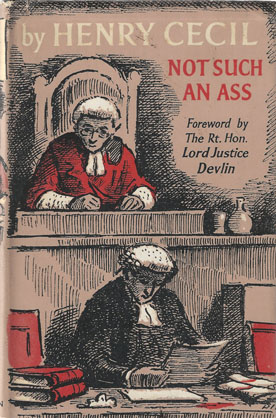 ISBN13: 004288
ISBN: 004288
Published: August 1961
Publisher: Hutchinson & Co.
Country of Publication: UK
Format: Hardback
Price: Out of print

Out of Print
Henry Cecil has become more and more widely known as a writer of novels with legal backgrounds. Possessing all the gifts of the novelist, he has, in addition, extensive know¬ledge of the law to which he brings the humani¬ties of kindness and great good humour.
His last book in the particular genre of Not Such an Ass was that gay textbook Brief to Counsel, without a sound knowledge of which no aspiring barrister would dare to eat his dinners, leave alone sit for his finals or face his first judge.
Not Such an Ass has a much wider appeal, for it is addressed as much to the general reader as to those professionally in¬volved with the 'majesty' of the law. It is thus a book which no devotee of Henry Cecil, in any of his moods, will care to overlook.
Its main purpose is one of explanation and elucidation and it covers many apparent perplexities of both criminal and civil law, but it is written in the same cheerful style as Brief to Counsel. Should, for example, the reader be detained for questioning, he will send first for this book (under the counter at every police station) and then for his lawyer.
If he is asked for 'a reference' he will consult Henry Cecil before giving it. Involved in a road accident his first thought will be, not for his licence, but for that copy of Not Such an Ass in the boot. Exasperated by the law's inexplicable delays, Not Such an Ass could be his bedside sedative.
Legal aid in the Courts is free to some and not to others. We must concede that this legal aid of ours is free to none except reviewers. It costs 15s.