Palmer's Company Guide: A Manual of Everyday Law and Practice 36th ed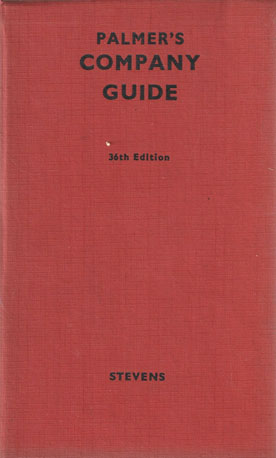 ISBN13: 004291
ISBN: 004291
Published: September 1948
Publisher: Stevens & Sons Ltd
Country of Publication: UK
Format: Hardback Pocketbook
Price: Out of print

Out of Print
This work, under the title of Palmer's Shareholders', Directors' and Voluntary Liquidators' Legal Companion, has passed through more than thirty editions. Its objects, as stated by the author, are " to supply shareholders, directors, secretaries and others with information upon the many legal and practical questions which are constantly arising in connection with companies." .
In this edition the provisions of the Companies Act, 1948, have been incorporated. That Act came into operation on July 1, 1948, and consolidates both the Companies Act 1929 and the Companies Act 1947. As it contains 462 sections and 18 schedules it is felt that no apology is needed in providing a little guidance to it.
The Companies Act 1947, however, still remains in force to the extent of four sections. These are:-
s. 58 (extension of Registration of Business Names Act, l 916, to companies) ;
s. I 15 (relating to bankruptcy) ;
s. 116 (registration of business names).
s. 117 (relating to the prevention of fraud in connection with trust units) ;
It is hoped that this edition will be found practically useful and will continue to fulfil the objects for which its author originally wrote it.
J. Charlesworth July, 1948