A Treatise on the History and Law of Fidicuary Relationship and Resulting Trusts 3rd ed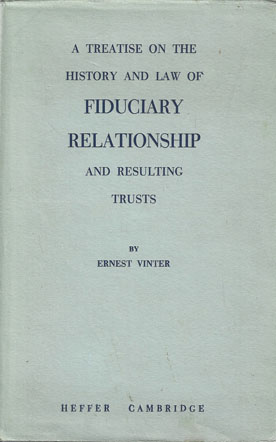 ISBN13: 004311
ISBN: 004311
Published: June 1955
Publisher: W. Heffer & Sons Ltd
Country of Publication: UK
Format: Hardback
Price: Out of print

Out of Print
Preface To The Third Edition More than 16 years have elapsed since the publication of the last edition of this work, and since then many new cases have been decided, which have been added to the present edition in order to bring the work up to date, and in touch with the latest judicial decisions referred to.
Cases arising out of the Finance Act, 1941, the Finance (No. 2) Act, 1945, the Town and Country Planning Act, 1947, the Companies Act, 1948, the Adoption of Children Act, 1926, the Adoption Act, 1950, and the Inheritance (Family Provision) Act, 1938, as amended by the Intestates Estates Act, 1952, Part II have been incorporated in this edition and 'much of the previous edition has been carefully revised and enlarged.
A table of calculations with reference to "Tax free annuities" has been added, showing the correct method of arriving at the amount of a tax free annuity now payable, to which the Finance Act of 1941 and 1945 apply, and a summary of the litigation which arose as to the exact meaning of some of the wording of the 1941 Act has been included.
I would like to express my gratitude to Mr. D. E. C. Yale, M.A., LL.B., of Christ's College, Cambridge, for his valuable assistance in the revision of the work, and I also wish to acknowledge with thanks the kind permission of the Incor¬porated Council of Law Reporting to include extracts from judgments from the Law Reports and Weelcly Notes, and to also extend my thanks to Messrs. Butterworth & Co., for allowing me to reprint extracts from cases reported in the All England Law Reports.
E.V. Cambridge July, 1955