An Introduction to the Study of the Law of the Constitution 10th ed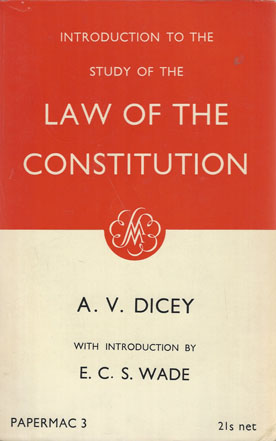 ISBN13: 004324
ISBN: 004324
Published: June 1961
Publisher: Macmillan & Co Ltd
Country of Publication: UK
Format: Paperback (Hardback in 1959)
Price: Out of print

Out of Print
A year after the publication of Dicey's Law of the Constitution, William Gladstone was reading it aloud in the House of Commons, citing it as the authoritative volume. It remains, to this day, a starting point for the study of the English Constitution and comparative constitutional law.
The Law of the Constitution elucidates the guiding principles of the modern constitution of England: the legislative sovereignty of Parliament, the rule of law, and the binding force of unwritten conventions.
Dicey's goal was "to provide students with a manual which may impress these leading principles on their minds, and thus may enable them to study with benefit in Blackstone's Commentaries and other treatises of the like nature those legal topics which, taken together, make up the constitutional law of England."
This 8th edition, published in 1915, was the last edition written by Dicey. The 9th edition (1931) and 10th edition (1959) have an introduction and appendix by E.C.S. Wade
Publication History First Edition 1885 : Second Edition 1886 Third Edition 1889 : Fourth Edition 1893 Fifth Edition 1897 : Sixth Edition 1902 Seveth Edition 1908 : Eighth Edition 1915 8th Reprinted 1920, 1923, 1924, 1926. 1927, 1931 Ninth Edition 1939 9th Reprinted 1941, 1945, 1948, 1950, 1952, 1956 Tenth Edition 1959 10th Reprinted 1960,1961