On Circuit 1924 - 1937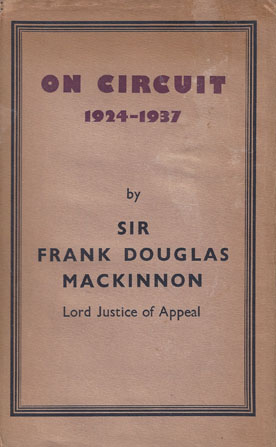 ISBN13: 004364
ISBN: 004364
Published: June 1940
Publisher: Cambridge University Press
Country of Publication: UK
Format: Hardback
Price: Out of print

Out of Print
Sir Frank Douglas MacKinnon (1871-1946) was a prominent lawyer, judge and writer. He is notable for being the only High Court judge appointed during the First Labour Government.
In this volume, Mackinnon describes his Circuit experiences between 1924 and 1937. The text was compiled from the journals he kept during that time, omitting more personal passages. This is a highly readable book that will be of value to anyone with an interest in British legal history.
from the Preface... When the war, and the black-out, put an end to most forms of innocent diversion, I found consolation of an evening by compiling this account of my Circuit experiences. It is based upon the journals I used to keep, but ommiting their more personal passages.
When I mentioned this enterprise to my friend Sir george Branson, he told me that he had been lent by Mr W. Grantham K.C., a Circuit Journal kept by his father. Mr Grantham lent it to me. He also lent me some Circuit Notes made by Baron Huddleston of which he had made a copy when marshall to his father.
I have inserted some extracts from 'Huddleston Notes', and Grantham Notes'. Huddleston was a Judge from 1875 to 1890 and Grantham from 1886 to 1911, so that their notes refer to these periods respectively.
I have received, through Mr Norman Birkett, K.C., its Leader, the permission of the Midland Circuit to print the extracts I have from the Circuit Records. F.D.M. Beaconsfield 8 March 1940