Criminal Law: The General Part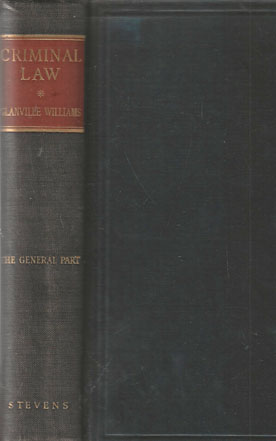 ISBN13: 004415
ISBN: 004415
Published: June 1953
Publisher: Stevens & Sons Ltd
Country of Publication: UK
Format: Hardback
Price: Out of print

Out of Print
This book is concerned to search out the general principles of the criminal law, that is to say those principles that apply to more than one crime. The great proliferation of criminal offences by the legislature means that many crimes are not fully covered by judicial interpretation ; but all are governed by certain general principles, which are conveniently described on the Continent as the "general part" of the law.
By bringing together the authorities on such concepts as knowledge, intent to defraud, and claim of right, the root principles are thrown into relief, and the attention of the practitioner is directed to relevant authorities that may be decided under different statutes from the one with which he is immediately concerned. Although the work is complete in itself, it is hoped to follow it later with a companion volume on specific crimes.
It is perhaps scarcely necessary to say that I have written as a lawyer, not as a criminologist or penologist or mental expert, to which titles I have no claim; yet I have seriously endeavoured to put the law into the setting of modern penological and psychiatric thought.
In citing cases, my general practice has been to give the references to all standard law reports except where the case is reported in The Law Reports or in a series reprinted in the English Reports. I have included selected authorities from other parts of the Commonwealth and from the United States. In threading my way through the tangle of American case-law I have availed myself gratefully of the help afforded by casebooks, which not only present the authorities in convenient form, with annotations, but also give the foreigner some idea of the importance attached to a particular decision by domestic lawyers. References to these American case-books are, where possible, appended to the decisions cited.
My sincere thanks are due to Dr T.C.N. Gibbens of the Maudsley Hospital and to Mr K.H. Drake, Librarian of the Institute of Advanced Legal Studies : to the former for reading the chapter on Mental Abnormality and making valuable observations, and to the latter for assisting me to obtain some American material.
G.L.W. University College London September 30, 1953