Cheshire's Private International Law 7th ed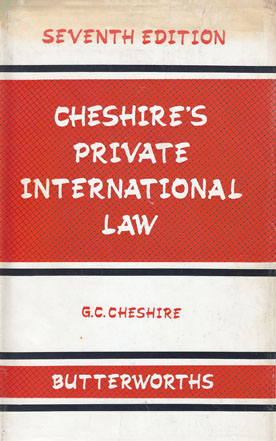 ISBN13: 004425
ISBN: 004425
Published: April 1965
Publisher: Butterworth & Co
Country of Publication: UK
Format: Hardback
Price: Out of print

Out of Print
In the thirty years since the First Edition appeared, Cheshire's Private International Law has established itself as the leading student's textbook in its field, providing within a manageable compass a clear exposition of basic principles.
The distinguished author has not, however, contented himself with a mere exposition of a branch of the law where, perhaps, the jurist has most to offer. His declared intention of approaching " the more controversial subjects in a spirit of constructive criticism" has meant that this classic work may itself claim to have played a significant role in the development of a more coherent body of law, a fact which is sufficiently attested by its frequent citation by both the Bench and the Bar.
In view of the intense legislative and judicial activity which has taken place during this period, succeeding editions have required extensive revision, and the Seventh Edition is no exception. Amongst other changes, the chapter on jurisdiction has been rearranged and partly rewritten; a fresh attempt is made to elucidate the subject of polygamy; a new section has been added upon declaratory judgments relating to status; there is mild criticism of the inclination of the judges to expand t-he scope ofthe common law marriage and the English doc-trine of public policy; and the chapter on torts has been enlarged and modernized.
This new edition, which states the law as at February 1st, 1965, will continue to provide student and practitioner alike not only with a work of stimulating erudition, but also with a thorough and reliable guide to the whole complex subject of Private International Law.