Famous American Trials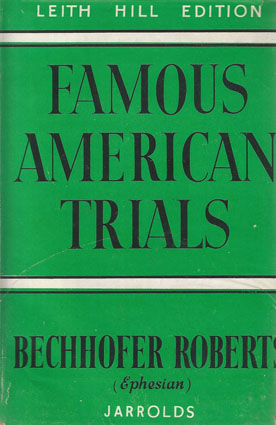 ISBN13: 004431
ISBN: 004431
Published: June 1947
Publisher: Jarrolds Publishers (London) Ltd
Country of Publication: UK
Format: Hardback
Price: £14.00
(Second Hand)

Out of Print
Bechhofer Roberts selection of twenty of the most remarkable American trials of old and recent times are described in these highly readable pages of Volume 4 of the Leith Hill Uniform Edition.
They serve as an excellent introduction to a new world of crime, and of justice, which latter differs considerably from our own. The cases, which include the trials of John Brown (whose 'soul goes marching on'), The Assassins of Abraham Lincoln, The Last of the Jesse James Gang, and Harry Thaw, have as an introductory an essay on the reading of criminal trials by Sir Rowland Burrows, K.C.
Carl Erich Bechhofer Roberts (1894-1949) wrote under his pen name, Ephesian which Paul Selver attributes to his admiration of F. E. Smith, the first Lord Birkenhead. Bechhofer also wrote a biography of Smith, Lord Birkenhead (1936), and studies of other political figures, including Stanley Baldwin and Winston Churchill.