Fiar Trial: Fourteen who Stood Accused from Anne Hutchinson to Alger Hiss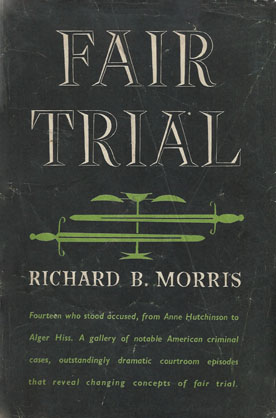 ISBN13: 004463
Publisher: Macdonald & Co.
Country of Publication: UK
Format: Hardback
Price: Out of print

Out of Print
Causes Celebres make tense reading. They carry their own weight and point their own lessons. The fourteen famous trials which make up this book have been subjected to scrutiny from a special angle, for in the introduction the reader is invited, after reviewing the facts in each case, to answer for himself a crucial question:-
Did the accused receive a fair trial?
Richard B. Morris, who is Professor of American History at Columbia University and the author of a number of scholarly and legal pulications, here combines exhaustive knowledge with a crisp, swift, narrative style that could be the envy of many historical novelists.
The cases he covers span the history of American law from the founding of the colonies to the present age of the Atomic Bomb. They range from the trial of Anne Hutchinson for sedition in the seventeenth century to the still freshly remembered and hotly debated conviction of Alger Hiss.
They run the gamut of crime from treason and espionage to piracy, murder and manslaughter. Each courtroom scene is skilfully laid in an authentic setting of the rele¬vant political, religious or social climate of its day. Where possible Professor Morris has supplemented the trial record by interviews with principals, judges, or attorneys, so that the text frequently has novelty as well as authority.