Tipping the Scales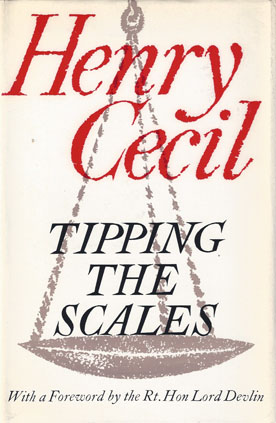 ISBN13: 004572
ISBN: 004572
Published: May 1964
Publisher: Hutchinson & Co.
Country of Publication: UK
Format: Hardback
Price: Out of print

Out of print
Today no one in his right mind would try to sway an English judge's decision by slipping him fifty pounds. The notion is unthinkable and the fact that this is so is a sign of the great advance in legal ethics which has taken place. For it was by no means always so.
The fascinating history of judicial corruption is the subject of Henry Cecil's new book. The earliest properly authenticated case he describes is of the early twelfth century, when Chief Justiciar Ranulph de Glanvill was accused of seeking to put to death a young knight in order that a friend of his could marry the knight's widow. And Mr. Cecil's book is as up-to-date as the "Lucky" Gordon Appeal.
In the 1960's we take it for granted that our judges are not prodded one way or the other by the Crown or Parliament; that they do not line their pockets with bribes; that they would refuse to try a case involving a relative or a friend of theirs. But these are just some of the things that commonly tipped the scales of justice in the distant past.
The long battle against corruption was a tough and wavering one : ground was won, and lost, and won again. Henry Cecil traces its course with a wealth of enthralling stories of the men and women whose cases brought nearer the kind of justice we enjoy in the twentieth century.
The acts of legislation which were milestones along the road he describes with the rare clarity of a writer blessed not only with a story-teller's gift but with a trained legal mind.