English Justice Between The Norman Conquest and the Great Charter 1066-1215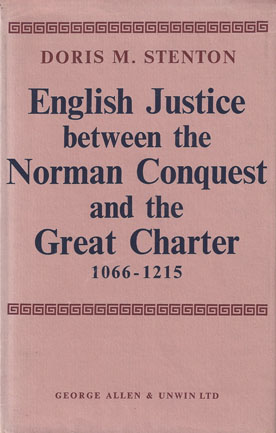 ISBN13: 004613
ISBN: 004613
Published: June 1965
Publisher: George Allen & Unwin Ltd
Country of Publication: UK
Format: Hardback
Price: Out of print

Out of Print
Lady Stenton, General Editor of the Pipe-Roll Society, 1923-1961, and former Reader in Medieval History at the University of Reading, in this book discusses the history of English justice in the period of the Norman Conquest, of the Angevin achievements, and of the contrasting reigns of Richard I and John.
The general history of these times is well known, but when Maitland wrote his great History of English Law little modern work had been done on the vast mass of evidence which lies behind the charters, the pipe rolls and the early rolls of the king's courts of justice. Lady Stenton, by a lifetime's research, has done much to make this evidence available to historians and now states her conclusions.
The great work done by Felix Liebermann and others on Anglo-Saxon law has made possible a new estimate of the inheritance entered upon by ' the Norman conquerors. The writ and sworn inquest can now be safely recognized as arising in the years when the communal courts of the hundred and the shire, under -royal surveillance administered justice to the English people. But the vigour of the conquerors which in the past has dazzled historians must not be under estimated today. Only in the hands of the Conqueror could the full strength latent in the king's writ be exerted and the sworn inquest developed into the jury.
It was Henry II, not the West Saxon kings who devised the returnable writ from which later developments in English judicial administration grew. It was he who built up a permanent bench of judges based at Westminster, from there making periodic journeys to administer justice throughout the land. With all their many faults, the early Angevin rulers, King John as well as his father, were concerned to play their part as kings who provided justice and judgment for their subjects 'according to the custom of the realm of England.'