The Old Fox: A Life of Gilbert Beyfus Q.C.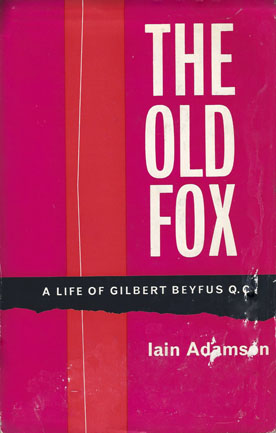 ISBN13: 004631
ISBN: 004631
Published: April 1963
Publisher: Frederick Muller Ltd
Country of Publication: UK
Format: Hardback
Price: Out of print

Out of Print
Gilbert Beyfus, the last of the great jury advocates in the Marshall Hall mould, brought high drama and personal passion into the hushed cloisters of British litigation for more than half a century. Lawyers knew him as the Old Fox and Parliament twice had to pass new legislation as a result of his victories.
Famous names went hand in hand with Beyfus' appearances in court - the Duchess of Argyll, Anternor Patino, the Marchioness of Winchester, Cassandra and Liberace are some of them - and lain Adamson has uncovered considerable new material.
He tells of the Chrysler conspiracy, which lasted for five years and which Beyfus regarded as his most notable victory, and there are astonishing revelations about Aneurin Bevan's libel action against the Spectator and the trial of Hignett the coroner. But most absorbing is the uncovering of Beyfus himself, the man behind the lawyer who was a hero of Hill 60, greyhound owner, an avid but unskilled sportsman, political aspirant and a dogged wooer, a man who experienced bitter lone-liness, unhappiness and blackmail.
With the help of Beyfus' diaries and private papers and the co-operation of his family and colleagues, Adamson has compiled an invaluable account of one of the great forensic personalities of our day.