Brief to Counsel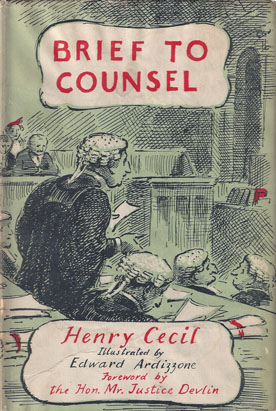 ISBN13: 004639
ISBN: 004639
Published: June 1958
Publisher: Michael Joseph Ltd
Country of Publication: UK
Format: Hardback
Price: Out of print

Out of Print
Here is a vade mecum for budding barristers. It is full of high serious purpose yet so lightly written that lay readers who were expecting another of Mr Cecil's diverting pieces of documentary fiction need not be too disappointed.
They will get plenty of fun along with the instruction. . . . All phases of the prospective career, from preliminary examinations and eating dinners to making applications in chambers and taking silk are covered with sound practical advice distilled from experience . . . no blue bag should be without it this Michaelmas.' OLIVER SOLOMONS (The Observer)
Henry Cecil has two personalities-one, in another name, as the living embodiment in his office of the Law, and another as the brilliant satirist of himself in that capacity.
The significance of his latest work, ostensibly advice to young or potential barristers, is that in it is to be found a synthesis of the two. The Law (it may be said) is a woman he loves with all her weaknesses, and this is an admirable manual on how a lover should behave towards her.
Here is a window into the heart of the English legal system. The drawings by Mr Edward Ardizzone, sensitive of the atmosphere they portray, charmingly set off the text.' THE TIMES