The Great Swindlers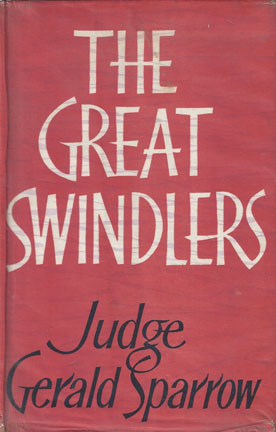 ISBN13: 004640
ISBN: 004640
Published: January 1959
Publisher: John Long
Country of Publication: UK
Format: Hardback
Price: Out of print

Out of Print
Swindlers can be fascinating, and in The Great Swindlers a gay galaxy of rogues, ancient and modern, are paraded for our entertainment. We meet the eternal optimist, Horatio Bottomley; the ultra-respectable Jabez Balfour; the illustrious Lord Cochrane ; and a host of other characters in this book, the interest of which is intensified and broadened by a new approach and the exploration of a new field of fraud.
Gerald Sparrow practised as a barrister in Manchester for six years until, in 1930, he was appointed a Judge of the International Court in Bangkok. After spending the war years in a Japanese prison, he founded an extensive international law practice with its headquarters in Bangkok, but with agents in London and New York, when he played the double role of barrister and solicitor.
This greatly increased his acquaintance with swindlers of all kinds and in the last chapters of this book he presents the Eastern swindler, as polished and urbane a rogue as you are ever likely to meet.
Judge Sparrow, the author of five successful books of autobiography and political travel and a volume of collected murder cases, does not deny that he has an affection for the swindler, and perhaps that is why he is able to take his readers into the swindler's mind to produce such an informative and entertaining book.