The Chief: The Biography of Gordon Hewart, Lord Chief Justice of England 1922-40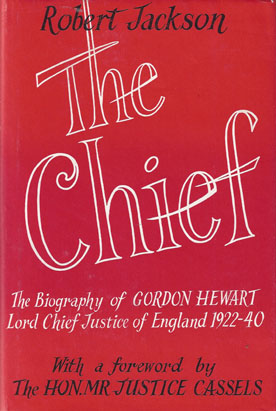 ISBN13: 004660
ISBN: 004660
Published: March 1959
Publisher: George G. Harrap & Co. Ltd
Country of Publication: UK
Format: Hardback
Price: Out of print

Out of Print
In 1922, Gordon Hewart was sworn in as Lord Chief justice of England. It was just over thirty years since he had set out from his father's drapery shop to make a career for himself.
Hewart's rise was spectacular. After Oxford and a few years in journalism, he read for the Bar. At thirty-two he was in practice as a barrister. He was a silk in ten years, Solicitor-General four years later, and subsequently Attorney-General for over three years, until he became Lord Chief Justice. In that office - which he held for eighteen years-he became famous.
From original research into every aspect of his subject Robert Jackson presents a vivid portrait of a brilliant journalist, a deadly prosecutor, a seasoned politician who could bend the House of Commons to his will, a judge before whom wicked men quailed, and an orator of biting wit.
The full story of how Hewart almost failed to attain the law's most coveted position, because he was too valuable to the Prime Minister, Lloyd George, is told for the first time, largely from Hewart's own account of the political manoeuvring after the First World War.
The trials of murderers and other criminals who came before him-Rutherford, Podmore, Browne and Kennedy, Leslie Stone, the May¬fair Boys, Bywaters and Thompson, Hatry, Eddie Guerin, and many others are described, and the author writes at length on the great legal "row" in which Hewart was involved in the 1930's, which culminated in a sensational debate in the House of Commons.