Sir Travers Humphreys: A Biography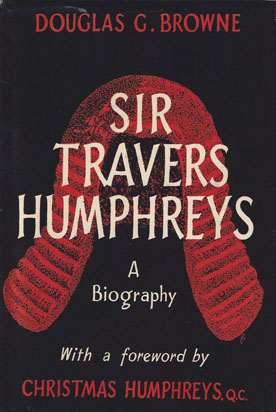 ISBN13: 004661
ISBN: 004661
Published: June 1960
Publisher: George G. Harrap & Co. Ltd
Country of Publication: UK
Format: Hardback
Price: Out of print

Out of Print
Sir Travers Humphreys was one of the outstanding legal figures of our time. Taking up criminal law, he was called to the Bar in 1889, and was one of the counsel briefed to defend Oscar Wilde in 1895.
He soon made his mark at the Old Bailey, and, as Treasury Counsel, figured there in many famous trials, including those of Crippen, the Seddons, G. J. Smith, Sir Roger Casement, Bottomley, and William Hobbs (the leading conspirator in the extraordinary case of Mr "A ". In 1928 he was raised to the Bench.
One of the most celebrated trials he conducted was that of Mrs Barney and Alma Rattenbury. Another was of the plotters in the great Fire Raising Conspiracy, in which his summing up, lasting three days, was described as a masterpiece. At the end of his career he tried acid-bath murderer John George Haigh.
This life is therefore an account of sixty years of criminal justice in England as centred about a man who took a great part in it as an advocate and judge. At the same time the many-sided character of Humphreys is admirably presented.
In court he was noted for his extreme fairness, and for his gift of making the most complicated case clear to a jury; as a jurist he made valuable contributions to the criminal law; as a man, everybody liked him. He was a witty conversationalist, and the best of company, having many and varied interests from small boat sailing to the theatre.