This is My Life: A Public Lecture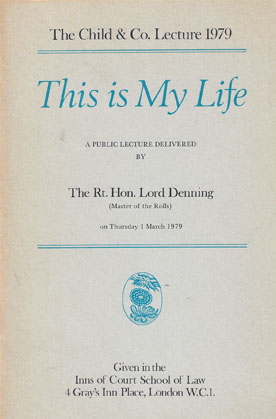 ISBN13: 004675
ISBN: 004675
Published: March 1979
Publisher: Child & Co.
Country of Publication: UK
Format: Pamphlet (14 Pages)
Price: Out of print

Out of Print
The Hon. Mr Justice Goff, D.C.L., Chairman of the Council of Legal Education.
It is my pleasure and privilege to introduce a speaker who needs no introduction. Lord Denning has been on the Bench for as long as I can remember. He was appointed a High Court Judge when I was still at school. For the greater part of my career as a practising lawyer he has been Master of the Rolls.
He delivered innumerable judgments of great distinction and interest: some, I believe, are controversial. He was also, I am proud to say, the head of my old chambers. He has taken a very long and abiding interest in the students of the Inns of Court, and in the work of the Inns of Court School of Law.
I can think of nobody whom we would welcome more here tonight to deliver the lecture which Messrs. Child & Co. has so generously endowed. Ladies and Gentlemen, The Master of the Rolls: The Right Honourable Lord Denning
The Child & Co. Lecture 1979 This is My Life A Public Lecture Delivered By The Rt. Hon. Lord Denning (Master of the Rolls) on Thursday 1 March 1979