Daniell's Chancery Practice 8th ed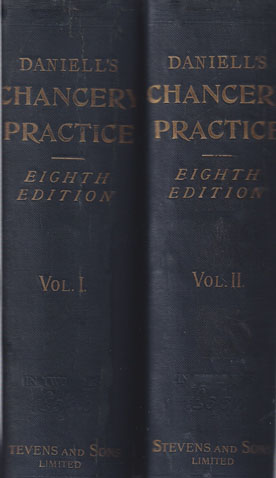 ISBN13: 004688
ISBN: 004688
Published: May 1914
Publisher: Stevens & Sons Ltd
Country of Publication: UK
Format: Hardback, 2 Volumes
Price: Out of print

Out of Print
Being a Treatise on The Practice of the Chancery Division And on Appeal Therefrom
The present edition of this Work has been brought down to December, 1913 and by Addenda to March, 1914 and includes the reported cases for the latter month and the Rules of the Supreme Court (Poor Persons), 1914, the latter being of considerable importance, especuially to solicitors.
The contemporaneous publication of a new edition of the companion volume of Daniell's Chancery Forms 6th ed has enabled the Editors to make constant reference to this important work, and so to add to the usefulness of this Eition of the Practice.
Many important statutes have been passed since the last edition was published, such as the Trade Marks Act 1905 the Public Trustee Act 1906 the Patents and Designs Act 1907 the Companies (Consolidation) Act 1908 and the Copyright Act 1911. These have involved many, and in some cases very extensive alterations and additions in the present work.
In addition to the changes made by legislation some important changes in the practice of the Chancery Division have taken place since the last edition. In particular may be noted the Supreme Court Funds Rules 1905 the Rules relating to Proceedings by Poor Persons and R.S.C. August 1913 with regard to payment into Court &c.
In addition to the Table of Cases and Table of Statutes a Table of Rules and Orders is now for the first time added, and this it is hopes will be found of considerable use in facilitating reference to the Rules of the Supreme Court.
The Editors desire to gratefully acknowledge valuable assistance rendered by Mr Richard White, a Master of the Supreme Court and Editor of Daniell's Chancery Forms who has read the first proofs of the chapter on Proceedings in Judges' Chambers and made many important suggestions; by Mr Charles John Stewart, the Public Trustee; and by Mr H. G. Garrett, of the Chancery Registrar's Office.
S.E.W F.G-S.
March,
1914