The Man on Your Conscience: An Investigation of the Evans Murder Trial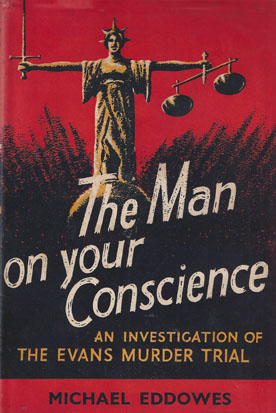 ISBN13: 004706
ISBN: 004706
Published: July 1955
Publisher: Cassell and Company, Ltd
Country of Publication: UK
Format: Hardback
Price: £8.00
(Second Hand)

Out of Print
ls British Justice, in its most vital aspect -the trial of a man for his life- as just as it is thought to be? This penetrating inquiry into the much argued Evans case suggests that, in spite of the safeguards of which we British are so proud, a man was sent to his death for a murder he did not commit, on evidence apparently over-whelming -evidence supported and corroborated by Christie, the chief prosecution witness called by the Crown, who as he stood in the witness box was already a multi-murderer and was actually accused by Evans of being just such a murderer.
This inquiry is not lightly made. It argues the case for Evans' innocence step by step and it shows that with all the safeguards present a man can be tried for his life and wrongfully convicted and hanged. But for the discovery in 1953 that Christie, who lived in the same house -10 Rillington Place- as Evans, was a strangler of women, no one would have inquired whether Evans' conviction in 1950 was a miscarriage of justice.
This is an alarming thought for it suggests that all may not be well with other murder verdicts. The argument is divided into three main sections. The first shows beyond reasonable doubt, in the light of the present knowledge of the facts, that Evans was innocent both of the murder of his wife and of his child and that their murderer was Christie; the second shows that evidence which might have acquitted Evans was not given at his trial; the third shows that the Government Inquiry in July 1953 came to a conclusion that appears to be wrong.
This is a serious charge, not against the integrity of those responsible for the administration of the law, but against a form of trial of a man for his life that can and did result in the most hideous of all crimes-judicial murder. This is a book that demands the consideration of the British public and calls for an answer from the authorities