Sir Patrick Hastings: Autobiography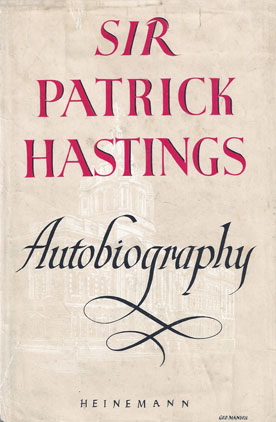 ISBN13: 004764
ISBN: 004764
Published: February 1948
Publisher: William Heinemann Ltd
Country of Publication: UK
Format: Hardback
Price: Out of print

Out of Print
This may well be the most-read, best-loved book that any of our great advocates has given us .... Why? Because Sir Patrick Hastings brings the human touch into the constellation. Not only human, he is amusing and he is in touch with real life.
"I have the honour to present to you Mr. Patrick Hastings!" Thus the Reader of the Middle Temple "called him". Perhaps this legal functionary did not realise what it had meant to young Hastings to scrape together the necessary £100 .... Years of nightly theatrical journalism at 30s a week with an odd article here and there ....
And before that there had been his boyhood in a family in which "bankruptcy was more of a habit than a misfortune", but which had nevertheless been able to send him to Charterhouse-for a time. Afterwards there was the precarious travelling with his mother on the Continent. Then his adventures as a trooper in the South African war...
From these chapters one realises the difficulties to be overcome by a young barrister without money or influence. But with foresight, pluck and luck he did it. The cases began to come in -the Douglas-Pennant case, the "Bob" Sievier case. and then the famous murder cases -Mrs. Barney, Vaquier, the case of the Polish officer, and the drama of betrayal known as the case of the Hooded Man.
Here also is his political story. He was Attorney General when the celebrated Campbell case made political history. Not less fascinating is the record of his successes and failures on the capricious London stage. His story is packed with all the good things he himself has found in life - a happy marriage, good friends, the excitement of achievement.
Apologia The recollections of a Lawyer's life are, not unaturally, expected to contain a complete record of his more important experiences in the Law Courts. Unfortunately these memoirs were written mainly to interest my family who are not legally minded. Consequently the blame for any omissions, or possible postponement, must be placed upon them. Patrick Hastings