An International Casebook of Crime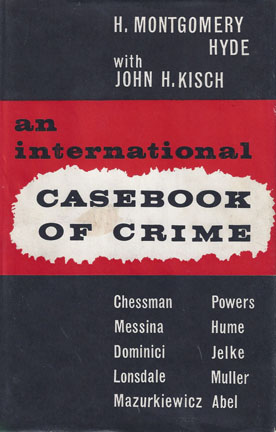 ISBN13: 004767
ISBN: 004767
Published: February 1962
Publisher: Barrie and Rockliff
Country of Publication: UK
Format: Hardback
Price: £10.00
(Second Hand)

Out of Print
H. Montgomery Hyde here assembles from a number of countries ten of the most remarkable criminal cases that have occurred since the last war. They come from several countries : some were reported extensively in the world's press; others, scarcely reported at all, are almost unknown outside their places of origin.
All have been chosen to illustrate some important aspect of criminal psychology or legal procedure. Pride of place goes to the murderers, but the motives which inspired the chosen four differ widely. The case of Brian Donald Hume, tried for murder in both England and Switzerland, is unique since he subsequently confessed to the murder of which he had been acquitted; incidentally it provides instructive comparisons between the criminal procedures of the two countries in which he was tried.
Two of the four murderers - Richard Muller, the jealous German dentist, and Gaston Dominici of Lurs - acted from clear enough motives, but left behind them many doubts as to whether justice was truly done to them. In the case of the Polish murderer Mazurkiewicz, as remarkable as the character of the man himself is the fact that he escaped detection until he had committed six murders and attempted two others.
Mr Montgomery Hyde, with his British Intelligence experience, writes with particular authority about three espionage cases: Francis Gary Powers (whose trial in Moscow he attended), Colonel Rudolf Abel - exchanged by their respective captors after having served only a small portion of their sentences - and Lonsdale of the Portland Naval Secrets Case. These cases illustrate Soviet Intelligence techniques in two Western countries, and the remarkable difference in attitude of East and West to their spies once they have been captured.
Alfredo Messina and Minot Jelke take their place in this casebook as two criminals who prospered on prostitution; but that is about all they have in common. Caryl Chessman, whom Mr. Montgomery Hyde visited in the condemned cell in California State Penitentiary, is in a class apart, as he does not fall into any traditional category of capital crime; but his case is celebrated for other reasons, particularly since he was under sentence of death for twelve years before his eventual execution.