The Sanctity of Life and the Criminal Law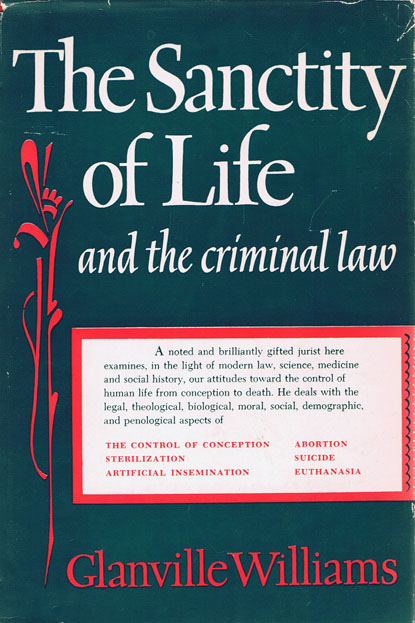 ISBN13: 004921
ISBN: 004921
Published: June 1958
Publisher: Faber and Faber
Country of Publication: UK
Format: Hardback
Price: £18.00
(Second Hand)

Out of Print
Is it right to control the production of human beings by contraception, sterilization and artificial insemination? What of abortion? What if a child is born deformed in 'mind or body - perhaps so severely as to be, in legal and medical language, a 'monster'?
At the other end of human existence, has man the right to do away with himself, and in particular can he, when afflicted by a painful and killing disease, rightly accelerate nature by consenting to euthanasia?
These questions are important not only to the lawyer and physician, but also to the sociologist, the theologian, and indeed to all who are concerned with practical moral problems and human welfare. Dr Glanville Williams, Fellow of Jesus College, Cambridge, and formerly Quain Professor of Jurisprudence in the University of London, sheds an intense new light on them by tapping the resources of biology and medicine as well as the law, by re-examining the traditional attitude of religion and ethics, and by drawing on humanitarian social philosophy.
He is careful to examine the practices of various jurisdictions, British, American and on the Continent of Europe. His book is a profoundly serious one, but Dr Williams writes at times of some odd legal conundrums. Is a man who drives a knife into the heart of a corpse that a surgeon might revive guilty of murder, or only of illegally tampering with a corpse? Under what circumstances is it possible, in the eyes of the law, for a woman to become the adulterer of another woman?
Although the law generally treats all interference with the life process as wrong, popular and medical attitudes by no means coincide with the legal view, and even religious opinion shows signs of changing. Here, for the first time in book form, is a full and balanced account, by a distinguished authority, of all aspects of the subject.