ICC Guide to National Procedures for Recognition and Enforcement of Awards Under the New York Convention 2012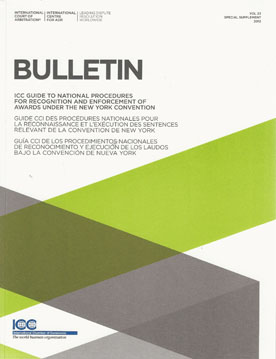 ISSN: 1017-284X-12
Published: April 2013
Publisher: International Chamber of Commerce
Country of Publication: France
Format: Paperback
Price: Out of print

The ICC Guide to National Procedures for Recognition and Enforcement of Awards under the New York Convention is a practical resource for anyone considering enforcing an arbitral award in one or more countries.
It systematically sets out local rules of procedure, case law and court practices in many of the Contracting States to the United Nations Convention on the Recognition and Enforcement of Foreign Arbitral Awards (New York Convention).
Drafted by specialists, the country information covers such matters as the courts with jurisdiction over recognition and enforcement proceedings, the evidence they require, applicable statutes of limitation, conditions under which proceedings may be stayed, available appeal procedures, the confidentiality of recognition and enforcement proceedings, and the types of awards that may be recognized and enforced.
This second, enlarged and updated edition of the Guide covers 79 countries and territories and takes account of recent legal developments in the field, with numerous citations to legislation and cases.
Volume 23: Special Supplement to the ICC International Court of Arbitration Bulletin 2012