Journal of Business Continuity and Emergency Planning: Print + Free Single-User Online Access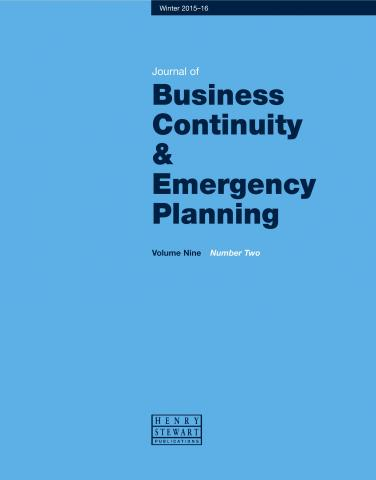 ISSN: 1749-9216
Latest Release: January 09, 2018
Publisher: Henry Stewart Publications
Country of Publication: UK
Format: Journal, 4 issues p.a.
Price: £260.00

Subscription Type: Annual Subscription
Domestic Renewal Price: £260.00
Overseas Renewal Price: £275.00
Usually despatched in 1 to 3 weeks.
Journal of Business Continuity & Emergency Planning is the leading professional journal publishing peer-reviewed articles and case studies written by and for business continuity and emergency managers. Each quarterly 100-page issue combines provocative thought-leadership pieces – which expand what can be achieved with business continuity and emergency management – with detailed, actionable advice and 'lessons learned', showing how programmes have been specified, designed, implemented, tested and updated, as well as how interruptions, emergencies and exercises have been managed in practice. The journal focuses on key strategic and business issues – not technical minutiae – with no advertorial or advertising. Each issue analyses the latest practice, innovative techniques and leading-edge thinking in: Identifying and preparing for new areas of risk Business impact analysis Defining and protecting mission critical operations Crisis communications and decision making Reputation risk management Natural and environmental risks Supply chain risk management Pandemics and other public health threats Making the business case for plan investments Case studies of how plans respond in practice to interruptions and emergencies Public-private partnerships and intra-agency planning Aligning plans with organisational goals Drafting and implementing plans Training and awareness programmes Plan tests, exercises and updates Security and public safety Telecoms, records and data infrastructure resilience Journal of Business Continuity & Emergency Planning publishes in-depth, end-user focused articles and real world case studies written by experienced business continuity and emergency managers who provide insight into current and best practice at blue chip corporations, central and local government and humanitarian agencies.