Sale of Goods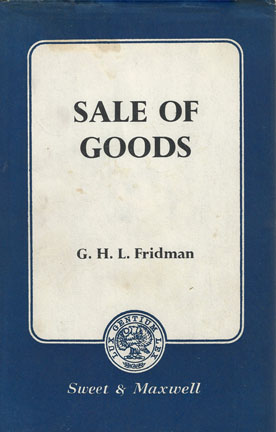 ISSN: 4419-4419
Published: March 1966
Publisher: Sweet & Maxwell Ltd
Country of Publication: UK
Format: Hardback
Price: Out of print

Out of Print
This is an entirely new students' textbook on the present English law relating to the contract of sale of goods. Its aim is to present, in a logical narrative, and therefore eminently readable form, a straight¬forward but reasonably detailed and critical account of the law, rather than a section by section commentary on the Sale of Goods Act.
Part I discusses the definition of the contract of sale of goods, distinguishing it from other contracts, explains how such a contract may be made, considers the meaning and different types of " goods " to which this part of the law relates, and describes the effect of a contract of sale. Part II is concerned with the passing of property in goods and the problem of title to goods, having regard to the provisions of the relevant statutes.
In Part III various contractual effects of the contract of sale of goods are discussed. These include obligations relating to the character and quality of goods sold, and the duties of delivery, acceptance and payment. The effect of frustration and the notion of risk are also dealt with under these headings. Part IV is concerned with remedies. These include rights of lien, stoppage in transitu and resale, actions for the price and for damages, specific performance, and actions by and against third parties.
In Part V some special contracts and problems are considered, namely, auctions, sales on credit, c.i.f. and similar contracts, assignments and foreign sales involving the conflict of laws. Throughout, valuable comparisons are made between the English law and the American Uniform Commercial Code.
For the student who wants to pursue his researches the footnotes carry references to other books and articles. For this reason, for the fresh approach and for the clarity and authority of its text, this book will be welcomed by teachers and students of the subjects at all levels of study.
1965 Price in the U.K. £2 10s. 0d. net