The Dilemma of Democracy: Diagnosis & Prescription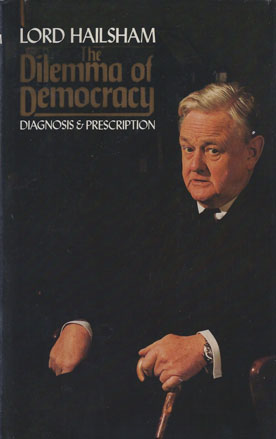 ISBN13: 9780002118606
ISBN: 0002118602
Published: June 1978
Publisher: Collins
Country of Publication: UK
Format: Hardback
Price: £12.00
(Second Hand)

Out of Print
What has gone wrong with Britain? Why do such a splendid people put up so pathetic a performance? And what has got to be done to put things right?
In this clear, pungent, witty, above all wise book, Lord Hailsham cuts to the heart of these familiar questions and produces answers of a characteristic originality and fearlessness. Where others .are obsessed with traditional forms or external symptoms Lord Hailsham is content with nothing less than root causes and rigorous diagnosis. He is not interested in a prescription that flatters the prejudice ofthe patient. He means to find out why we are in the mess we are and how we are to .get out of it.
'The genesis of this book' he writes 'lay in a desire to rethink my own political philosophy.' The needs of the time cannot be matched by a simple defence of Conservatism, such as he himself wrote immediately after the last war. Too much has changed, both in the machinery of government and in the way in which it is operated.
The chapter titles reflect the thorough examination to which, part by part, our political and constitutional anatomy is subjected. 'What Makes a Nation?', 'What is Democracy?', 'National Parties', 'The Pressure Group and the Union', 'Two Cheers for Capitalism', 'Coalitions and National Governments', 'Elective Dictatorship'. Here are a few examples out of nearly forty.