Reflect on Things Past: The Memoirs of Lord Carrington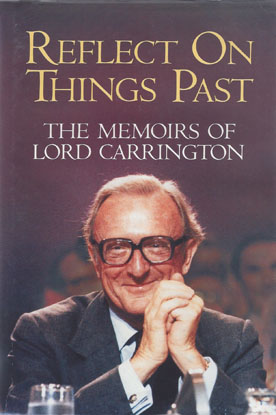 ISBN13: 9780002176675
ISBN: 000217667X
Published: October 1988
Publisher: Collins
Country of Publication: UK
Format: Hardback
Price: £8.00
(Second Hand)

Out of Print
Lord Carrington, Secretary General of NATO, presents here his memoirs, giving details of his career and the many people with whom he has had dealings. Born into a family with strong political roots, he went to Eton and Sandhurst, saw action in north-west Europe during World War II, then as soon as possible took his seat in the House of Lords as a somewhat questioning and occasionally uneasy Tory.
Given his first government appointment by Winston Churchill and later serving as Leader of the House of Lords, Defence Secretary and Foreign Secretary, he ended his career in government with the painful incident of his resignation when the Argentinians invaded the Falkland Islands. In Peter Carrington's record of his public life he describes the people from all over the world whom he has met such as Harold Macmillan, William Slim, Robert Menzies, Henry Kissinger, Robert Mugabe and Dom Mintoff.
This account of his life also gives insights into British and European political life and his reflections on the main issues that have preoccupied him, including reform of the House of Lords and above all, defence of the realm.