Carson: The Life of Sir Edward Carson, Lord Carson of Duncairn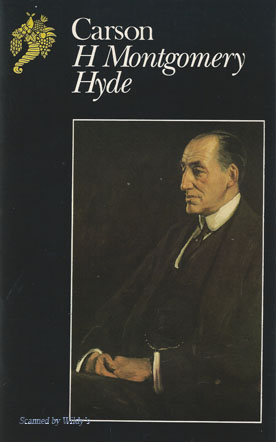 ISBN13: 9780094681903
ISBN: 0094681902
Published: June 1987
Publisher: Constable and Company Ltd
Country of Publication: UK
Format: Paperback
Price: Out of print

Out of Print
Carson was first published in 1953 and has long been out of print. It's reprint now is particularly appropriate in the light of the changes which have been, and are, taking place in the constitutional development of Northern Ireland, whose close political links with Great Britain Carson devoted the greater part of his political career in an endeavour to preserve.
That a lawyer born and bred in the Nationalist and separatist south of Ireland should have become the leader of the Unionist and 'loyalist' north is one of those curiosities of politics which from time to time distinguish and enliven the British political scene.
Edward Carson was primarily a lawyer whom the Irish question made into a politician. The reason for this metamorphosis may be found in a succint remark of the Liberal Prime Minister Lord Rosebery in 1895. Writing soon after the rejection of Gladstone's second Home Rule Bill, Rosebery observed that the Irish question had 'never passed into history, for it has never passed out of politics'.
Carson's great cases as an advocate and judge which the author describes - Oscar Wilde, George Archer-Shee ('The Winslow Boy'), the Soap Trust, the Cadbury libel, the Marconi scandal, the Scott will, the Russell divorce, and many others - will always enshrine and illumine his legal reputation. But it is as a politician that he will be remembered above all in Ulster, the six north­ eastern counties of which were excluded from the ambience of the Home Rule Act of 1914 largely as the result of his sustained efforts.
About the Author
Harford Montgomery Hyde was born in Belfast in 19°7 and is the author of more than forty books, mostly biographies and studies in criminology and sociology. Educated at Sedbergh, Queen's University, Belfast and Magdalen College, Oxford, where he read history and law, he has practised as a barrister, worked in secret intelligence, was Ulster Unionist MP for North Belfast from 1950 to 1959, and has been Professor of History at the University of the Punjab in Lahore.
He is currently Leverhulme Research Fellow at the RAF Museum where he is engaged in writing the official history of British air policy between the wars. He is married and lives with his wife at Tenterden in Kent. He is also a cousin of the late Henry James, the American novelist and critic, in whose English home in Rye he and his wife lived for some years.