Negotiating Skills for the ISDA Master Agreement: The Essential Playbook for Over-the-Counter Derivatives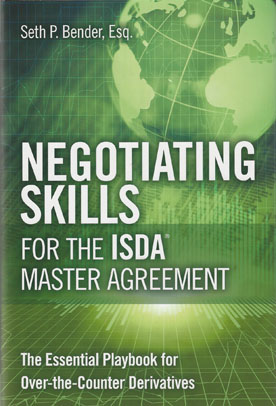 ISBN13: 9780132099639
Published: February 2011
Publisher: FT Prentice Hall
Country of Publication: USA
Format: Hardback
Price: Out of print

In the wake of recent turbulence in the financial markets, institutions that transact OTC derivatives are increasingly relying on the International Swaps and Derivatives Association, Inc.'s ("ISDA") Master Agreement.
However, because this agreement is extremely complex, many money managers, hedge fund managers, and traders find themselves at a serious disadvantage when negotiating with dealer counterparties. Now, for the first time, there's a complete, practical guide to successfully negotiating the ISDA Master Agreement and its associated Credit Support Annexes.
Negotiating Skills for the ISDA Master Agreement helps readers clearly understand what dealers will and won't concede, helping them focus on the issues and provisions they can actually change. Long-time OTC derivatives consultant Seth Phillip Bender clearly introduces the ISDA Master Agreement's documentation architecture, provides drafting recommendations and language suggestions, and offers specific operational tips related to the Credit Support Annex and the collaterization of exposure.
He also devotes a full chapter to recent ISDA initiatives, showing how they have affected negotiations, and guiding readers in aligning with them. Simply put, this book gives financial professionals the insights they need to protect their interests in today's OTC derivatives marketplace--fairly, efficiently, and consistently.