The Oxford Book of Legal Anecdotes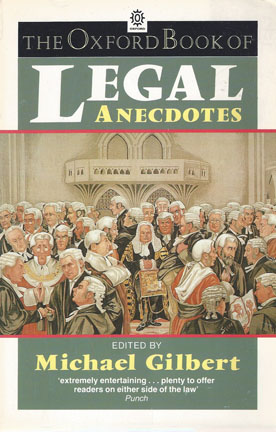 ISBN13: 9780192821126
ISBN: 0192821121
Published: June 1989
Publisher: Oxford University Press
Country of Publication: UK
Format: Paperback
Price: Out of print

Out of Print
The law has a great hold over the imagination of the public: it is all-powerful, yet its servants can be fallible, and it is the foibles as well as the authority of judges, barristers, solicitors, and other legal practitioners that make this collection so enjoyable.
Michael Gilbert has drawn from the reminiscences of lawyers and criminals, witnesses and clerks over 350 anecdotes about legal goings-on in the past 250 years, and about the individuals who have won distinction in their profession.
Edward Carson cross-examining Oscar Wilde, Clarence Darrow defending J. T. Scopes for teaching the theory of evolution: these are perhaps the best known of many celebrated legal battles retold in these pages. Of a less dramatic nature is the story of the letter received by the American judge, Benjamin Cardozo: `I read in the newspapers that you are a liberal judge. Will you send me ten dollars as I'm really very hard up.'
Michael Gilbert was a partner with a firm of solicitors in the City for many years. He is now retired, but has since become a well-known crime writer.