The Art of Scandal: Modernism, Libel Law, and the Roman a Clef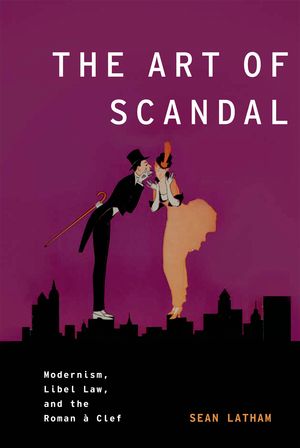 ISBN13: 9780195379990
Published: April 2009
Publisher: Oxford University Press
Country of Publication: USA
Format: Hardback
Price: £16.99
(Second Hand)

The Art of Scandal advances a relatively simple claim with far-reaching consequences for modernist studies; writers and readers throughout the early twentieth century revived the long-despised codes and habits of the roman à clef as a key part of that larger assault on Victorian realism we now call modernism. In the process, this resurgent genre took on a life of its own, reconfiguring the intricate relationship between literature, celebrity, and the law.
Latham uses the genre to reconfigure modernism's development as a cultural practice diffused across texts and networks of reception and circulation in which they are embedded. Such a move means coming to terms with the ways in which producers as well as consumers used elements of the roman à clef to challenge fiction's apparent autonomy from the social and political world.
This widespread process provoked not only a generative aesthetic crisis, but a gradually unfolding legal quandary that led Britain's highest courts to worry that fiction itself might be illegal. Writers like James Joyce, Jean Rhys, Oscar Wilde, and D.H. Lawrence deliberately employed elements of the roman à clef, only to find that it possessed an uncanny and even dangerous agency of its own-one that resonated through a complex system of publicity and constraint.
Bringing these effects fully into view requires a mixture of close reading and archival excavation that proceeds here in chapters on the anonymous case study, Oscar Wilde's trial, libel law, celebrity salons, and Parisian bohemia.
The Art of Scandal thus both salvages the roman à clef and traces its weird itinerary through the early twentieth century. In the process, it elaborates an expansive concept of modernism that interweaves coterie culture with the mass media, psychology with celebrity, and literature with the law.