Lives of the Lord Chancellors: 1940-1970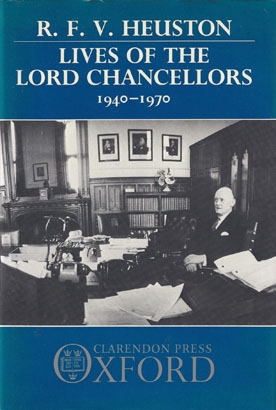 ISBN13: 9780198200741
ISBN: 0198200749
Published: June 1987
Publisher: Clarendon Press
Country of Publication: UK
Format: Hardback
Price: £65.00
(Second Hand)

Out Of Print
The Lord Chancellor holds one of the most ancient offices in the British constitution, and has always combined the functions of a judge, a cabinet minister, and a legislator.
With a critical constitutional role connecting legislation and the practice of the law, the holders of the office since the late nineteenth century have successfully adapted it to modern conditions, with the result that the Lord Chancellor is now the Cabinet member primarily responible for law reform.
This new volume examines such issues and changes in six biographical studies of the Lord Chancellors who held office between 1940 and 1970 - Lords Simon, Jowitt, Simonds, Kilmuir, Dilhorne, and Gardiner. It follows on from the author's first volume covering the periods 1885 - 1940.
The author has used unpublished diaries and letters to give a full picture of the personal as well as the professional life of each Lord Chancellor. His investigation into the way in which six holders of the office discharged their functions over a period of thirty years will be of interest to historians and politicians as well as lawyers.