Protecting Privacy: The Clifford Chance Lectures Volume 1V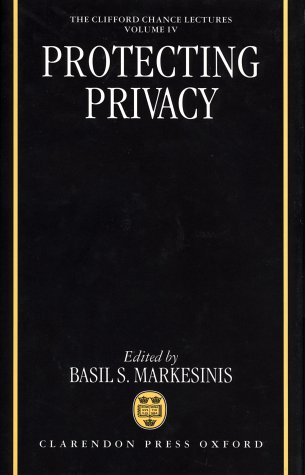 ISBN13: 9780198268857
ISBN: 0198268858
Published: January 1999
Publisher: Oxford University Press
Country of Publication: UK
Format: Hardback
Price: Out of print

Out Of Print
The Right of Privacy in the UK is a topic of much controversy between the media and the upholders of such a right. The Human Rights Act is likely to have a considerable impact on UK Privacy Law, introducing in the UK some of the principles which have long been in force in other European states as a result of the European Convention of Human Rights.
The essays in this book examine the experiences of other countries, with similar political, economic and social situations, many of which provide better protection than the UK in cases of invasion of privacy. The essays examine these experiences and ask why, while these states often provide better protection of Privacy than is found in the UK, their Press does not feel as threatened as its UK equivalent.
This is the fourth volume in the series of books based on the annual Clifford Chance Conferences which are organised under the auspices of the Centre for the Advanced Study of European and Comparative Law at the University of Oxford. As in the previous volumes, the work draws together lectures by some of the world's most distinguished academics, lawyers and judges.