EU Law: Text, Cases and Materials 6th ed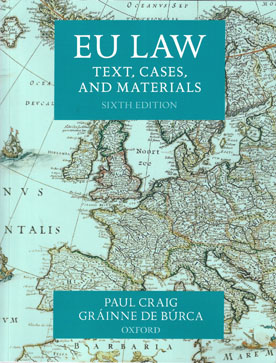 ISBN13: 9780198714927
Published: August 2015
Publisher: Oxford University Press
Country of Publication: UK
Format: Paperback
Price: £44.99

Building on its unrivalled reputation as the definitive EU law textbook, this sixth edition continues to provide clear and insightful analysis of all aspects of European Union law. Drawing on their wealth of experience both teaching and writing in this area, Paul Craig and Grainne de Burca provide a comprehensive and enhanced account of their classic text.
Working closely as an author team for over twenty years, they succeed in bringing together a unique mix of illuminating commentary and well-chosen extracts from a wide range of cases, legislation and academic articles. All chapters have been carefully structured and designed to enhance student learning at all levels, laying the foundations of the subject while building analysis of more complex areas and cutting edge debates.
Each chapter opens with a concise overview of the 'central issues', providing valuable context, before drawing together key analysis in a comprehensive chapter conclusion to provide a clear yet complete picture of the subject.
The book is accompanied by an Online Resource Centre which includes the following resources: - An interactive map of the EU, providing key facts about each member state - An interactive timeline, tracing key dates in the development of the EU - Author video discussing the importance of studying EU law - Updates to the law post-publication
New to this edition:-
Coverage of all important recent developments, including: Important new case law such as the landmark Opinion 2/13 on EU Accession to the ECHR; The implications of the European Parliament elections for the relationship between the Commission, the European Parliament and the European Council; The strategies adopted by the new Commission President and his team; The issues surrounding the possible UK referendum on membership.
Reworking of chapter 20, Free Movement of Capital and Economic and Monetary Union, to include thorough discussion of the issues concerning the financial crisis.