Schlechtriem and Schwenzer: Commentary on the UN Convention on the International Sale of Goods: CISG 4th ed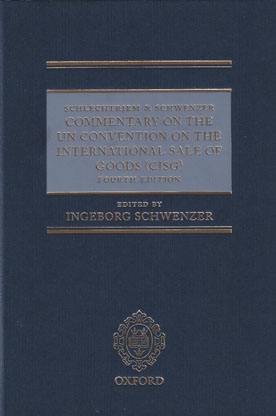 ISBN13: 9780198723264
Published: March 2016
Publisher: Oxford University Press
Country of Publication: UK
Format: Hardback
Price: £265.00

Now in force in over 80 countries, the Convention on the International Sale of Goods (CISG) is one of the most successful and wide-reaching attempts to unify legal instruments for international commerce.
As global sales transactions increase, the CISG's range of influence in international practice has significantly expanded, potentially governing 80% of world trade.
In addition to the growing case law, the volume of case law reporting and scholarly writing on the Convention and its provisions and problems has increased dramatically. The Convention also continues to influence domestic law.
This is the fourth edition in English of the Commentary on the United Nations (UN) Convention on the International Sale of Goods (CISG). Since the publication of the first edition in 1998, the book has become an invaluable source for the comprehension and discussion of the Convention, frequently cited by legal writers, tribunals, and courts all over the world.
Thoroughly revised to reflect the growth and complexity of case law relating to the Convention, the book also considers new developments in the field of the CISG, particularly the accession of Brazil to the Convention. It addresses interpretations and rulings in domestic law influenced by the CISG that are significant at international level, such as the ruling of the English Court of Appeal in Mid Essex Hospital Services NHS Trust v. Compass Group UK (2013).
It also assesses the relevant publishing on the CISG since 2009. Written by an international team of contributors, this book provides expert analysis, and combines judicial and scholarly views from numerous jurisdictions.
This is the most comprehensive and authoritative commentary on the CISG, and an invaluable resource for scholars and practitioners alike.