Wrongful Allegations of Sexual and Child Abuse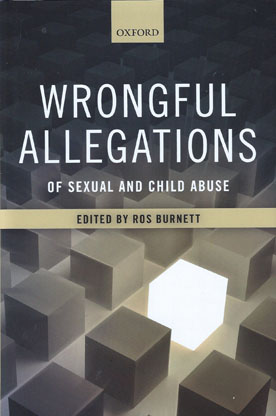 ISBN13: 9780198723301
Published: September 2016
Publisher: Oxford University Press
Country of Publication: UK
Format: Hardback
Price: £75.00

Wrongful Allegations of Sexual and Child Abuse fills a gap for an authoritative and considered text focused on false accusations of recent or historical abuse, both as a miscarriage of justice and as an ordeal which impairs lives even when it does not result in criminal charges.
It brings together experts from different disciplinary backgrounds and relevant specialisms to explicate the context, causes, and processes that foster erroneous or fabricated allegations and to consider ways of reducing their incidence and the injustices that follow them.
While there has been a welcome increase in policies which address child abuse, rape and other sexual offences, these tend to neglect or disavow the diametrical problem of false allegations of such offences.
It is inherent in the, typically, unwitnessed and physically uncorroborated nature of these 'hidden' crimes that they are difficult to prosecute; but also to disprove if no crime has been committed. It is right that all allegations of abuse are treated as believable and are rigorously investigated, but it is not in the interest of any progressive and robust system of justice to convict or malign innocent people.
The final part looks at the ways such concerns might be addressed whilst remaining mindful of victims of abuse and their suffering.
Tackling an under-researched and under-discussed area, Wrongful Allegations of Sexual and Child Abuse offers thoughtful and thought-provoking discourses around an understandably difficult and sensitive area.