Tort Law and Economic Interests 2nd ed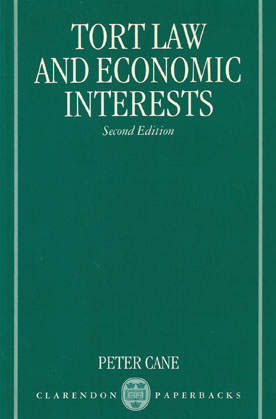 ISBN13: 9780198764298
ISBN: 0198764294
Published: March 1996
Publisher: Oxford University Press
Country of Publication: UK
Format: Paperback
Price: Out of print

Out of Print
This book is about the way in which the law of torts protects financial assets such as money, property, and contracts. It focuses on the interests protected and does not follow the usual textbook arrangement of the law according to the various torts (such as trespass, negligence, and defamation).
The discussion goes well beyond the debate about recovery for economic loss in negligence and places that debate in a much wider context. The introduction explains the notion of economic interests and why this has been chosen as the focus of attention.
The second part gives an account of the relevant rules of tort law, while the third part examines the relationship between tort law and other legal categories such as contract, trusts, and restitution as well as between tort law and other techniques for protecting economic interests such as regulation and insurance.
The final part discusses the aims and functions of tort law. Many of the issues discussed receive very little attention in most tort texts. The book's focus on interests is fruitful because it leads us to consider the ways in which the protection of economic interests by tort law differs from that provided by other areas of law.
It also alerts us to the fact that tort law plays a significant part in protecting interests recognized by property law and contract law. Viewing tort law in terms of the ways it protects economic interests leads to the important realization that the juridical techniques of the common law of tort have parallels in statutory causes of action, which often interact with common law causes of action in complex ways.
At a slightly more general level, this examination of the the functions of tort law in protecting economic interests helps to reveal their complexity and to explain inconsistencies within the general body of tort doctrine. This book is intended for this is an advanced text on the law of tort, suitable for very able undergraduates, graduates, scholars and practitioners.