The Changing Contours of Criminal Justice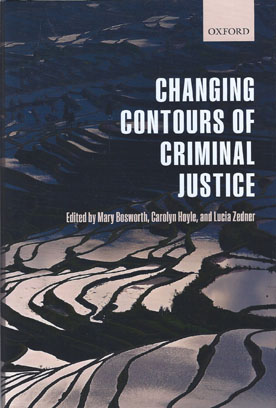 ISBN13: 9780198783237
Published: November 2016
Publisher: Oxford University Press
Country of Publication: UK
Format: Hardback
Price: £75.00

Despatched in 2 to 4 days.
Celebrating the 50th Anniversary of the Oxford Centre for Criminology, this edited collection of essays seeks to explore the changing contours of criminal justice over the past half century and to consider possible shifts over the next few decades.
The question of how social science disciplines develop and change does not invite any easy answer, with the task made all the more difficult given the highly politicised nature of some subjects and the volatile, evolving status of its institutions and practices. A case in point is criminal justice: at once fairly parochial, much criminal justice scholarship is now global in its reach and subject areas that are now accepted as central to its study - victims, restorative justice, security, privatization, terrorism, citizenship and migration (to name just a few) - were topics unknown to the discipline half a century ago. Indeed, most criminologists would have once stoutly denied that they had anything to do with it. Likewise, some central topics of past criminological attention, like probation, have largely receded from academic attention and some central criminal justice institutions, like Borstal and corporal punishment, have, at least in Europe, been abolished. Although the rapidity and radical nature of this change make it quite impossible to predict what criminal justice will look like in fifty years' time, reflection on such developments may assist in understanding how it arrived at its current form and hint at what the future holds.
The contributors to this volume have been invited to reflect on the impact Oxford criminology has had on the discipline, providing a unique and critical discussion about the current state of criminal justice around the world and the origins and future implications of contemporary practice. All are leading internationally-renowned criminologists whose work has defined and often re-defined our understanding of criminal justice policy and literature.