The Supervisory Jurisdiction Over Trust Administration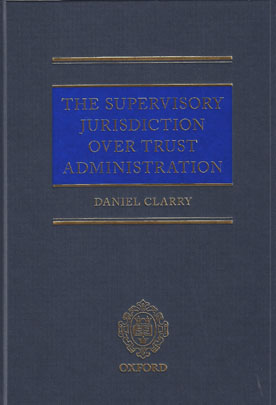 ISBN13: 9780198813651
Published: December 2018
Publisher: Oxford University Press
Country of Publication: UK
Format: Hardback
Price: £135.00

Providing valuable insight into a relatively unexplored field, this book examines the day-to-day functioning of the supervisory jurisdiction over trust administration and distils the essential principles that guide the Court's supervision and intervention in trust administration in the absence of any wrongdoing and with a view to facilitating the ongoing performance of a trust.
An introductory section places the supervisory jurisdiction over trust administration in its historical context, exploring its origins and evolution through statutory reform into modern times. Analysis of twelve judicial functions by which the court acts to facilitate the on-going performance of trusts follows, examining the general administration of trusts, court regulation of the office of trustee, securing the due administration, and supervising the non-performance, of trusts.
These supervisory functions of the court are essential to any jurisdiction in the common law tradition and underscore the peculiar way in which trusts are regulated by the court throughout those jurisdictions. Recent developments in alternative dispute resolution in trust law, especially the arbitration of trust disputes, are also considered in a section focussing on remedies and trends in which the operation of the essential principles of the supervisory jurisdiction over trust administration are also considered against the background of recent developments in trust law - namely, the principles upon which the court awards compensation for breach of trust and reviews trustee decision-making.
As well as exploring the nature and scope of the Court's jurisdiction, this book also supplies practical guidance as to how that might impact on a particular case or advice in administering a trust.