Lying and Perjury in Medieval Practical Thought: A Study in the History of Casuistry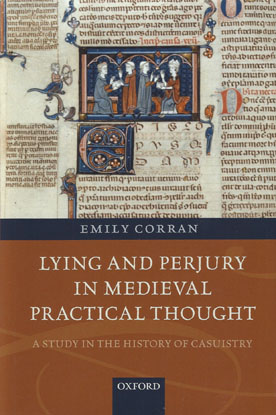 ISBN13: 9780198828884
Published: September 2018
Publisher: Oxford University Press
Country of Publication: UK
Format: Hardback
Price: £60.00

Thought about lying and perjury became increasingly practical from the end of the twelfth century in Western Europe. At this time, a distinctive way of thinking about deception and false oaths appeared in the schools of Paris and Bologna, most notably in the Summa de Sacramentis et Animae Consiliis of Peter the Chanter.
This kind of thought was concerned with moral dilemmas and the application of moral rules in exceptional cases. It was a tradition which continued in pastoral writings of the thirteenth century, the practical moral questions addressed by theologians in universities in the second half of the thirteenth century, and in the Summae de Casibus Conscientiae of the late Middle Ages.
Lying and Perjury in Medieval Practical Thought argues that medieval practical ethics of this sort can usefully be described as casuistry - a term for the discipline of moral theology that became famous during the Counter-Reformation.
This can be seen in the origins of the concept of equivocation, an idea that was explored in medieval literature with varying degrees of moral ambiguity. From the turn of the thirteenth century, the concept was adopted by canon lawyers and theologians, as a means of exploring questions about exceptional situations in ethics. It has been assumed in the past that equivocation, and the casuistry of lying was an academic discourse invented in the sixteenth century in order to evade moral obligations.
This study reveals that casuistry in the Middle Ages was developed in ecclesiastical thought as part of an effort to explain how to follow moral rules in ambiguous and perplexing cases.