Investor Protection in Europe: Corporate Law Making, the MiFID and Beyond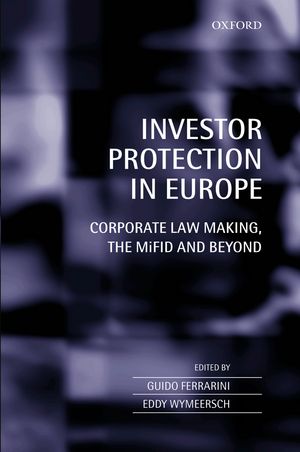 ISBN13: 9780199202911
ISBN: 0199202915
Published: October 2006
Publisher: Oxford University Press
Country of Publication: UK
Format: Hardback
Price: £110.00

This collection explores the topical issue of investor protection in Europe from both a capital market and a company law perspective, and offers a broad and coherent perspective on regulatory competition and harmonisation concerning companies and securities markets in the EU. Follwing the unitary approach to investor protection, increasingly justified and adopted in Europe after the Enron, and Parmalat scandals, the volume follows recent EU developments in both capital markets and company law, and analyses how these have stimulated academic discussion on regulatory competition and regulatory harmonisation, particularly in the securities area.
Part I of the book deals with competition in securities regulation both from an EU and US perspective. Part II analyses the recent Markets in Financial Instruments Directive, which carries the new regulation of investment services and trading systems and covers the main regulatory issues including conduct of business and internalization. The issue of clearing and settlement, often neglected in academic studies, is also explored.
Part III is dedicated to prospectuses and transparency regulation, while Part IV deals with competition in company law from new angles, such as 'yardstick competition' and 'competition for investments'. Part V deals with the problems of enforcement in the light of Parmalat and other recent scandals, and the collection as a whole concludes with a radical chapter on developing a proposal for extraterritorial courts.