European Security Law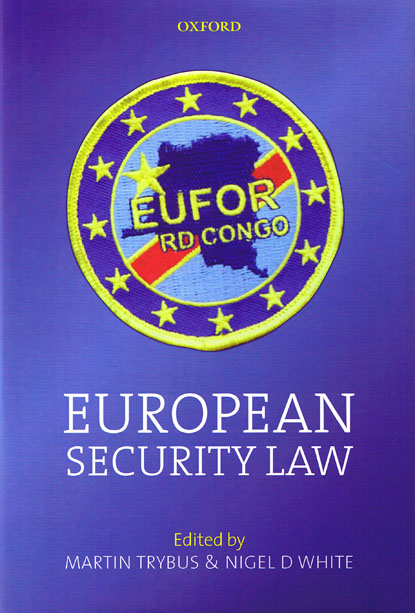 ISBN13: 9780199218622
Published: March 2007
Publisher: Oxford University Press
Country of Publication: UK
Format: Hardback
Price: £110.00

Despatched in 5 to 7 days.
There have been a number of EU military operations in the last few years, evidence of a growing European military confidence, which in turn is a reflection of a developing competence in security matters. The creation of the European Union and its Common Foreign and Security Policy by the Maastricht Treaty of 1992 heralded this development, though the idea of a common defence can be traced to the beginnings of European integration. This book provides an analysis of the EU's evolving legal framework and powers on such matters, but it also recognises that such a framework sits, sometimes uneasily, within the wider body of EU and International Law. The EU's security and defence policy also overlaps with those of other organisations such as the Organization for Security and Cooperation in Europe (OSCE), but more especially the North Atlantic Treaty Organization (NATO). EU relations with NATO have, in particular, caused some concern and are still evolving as both organizations seek to play a wider security role in the post-Cold War, and now post-9/11, era.
With security now dominating political agendas at the domestic, regional and international levels, it is no surprise that the EU's concern for security has grown apace, and, following the Union's respect for the rule of law, has been shaped legally as well as politically. This book evaluates the progress of the Union in this regard in its international context and in its wider context of European integration generally. The analysis is in the main a legal one, but is placed squarely within wider historical and political perspectives.
Provides a groundbreaking, first comprehensive analysis of a growing and under-examined area of European Law
Examines the development of different aspects of EU security including peacekeeping and responses to terrorism, such as the current deployment of EU forces in the Lebanon and Bosnia and Herzegovina
Places the discussion of European law and policy within the wider international legal and institutional context, focusing on the relationship with NATO
Provides a full legal analysis of the constitutional framework for EU security action, including coverage of the relationship between security law and the wider issues of EU external relations, and the potential impact of the changes proposed by the Constitutional Treaty
Written by the leading European legal experts on security issues