Independence Principle of Letters of Credit and Demand Guarantees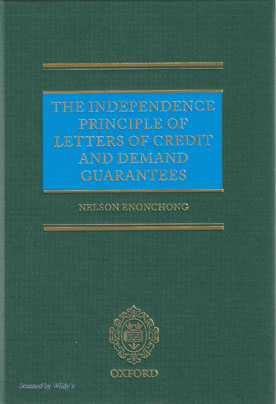 ISBN13: 9780199239719
Published: April 2011
Publisher: Oxford University Press
Country of Publication: UK
Format: Hardback
Price: £205.00

The Independence Principle of Letters of Credit and Demand Guarantees offers a comprehensive and authoritative analysis of the principle of independence, a fundamental element of Letters of Credit and Demand Guarantees. It examines the key issues involved in the practical application of this principle and the increasing exceptions to it, including a detailed account of the rules in this area.
Beginning with an elementary account of the law of Letters of Credit and Demand Guarantees, the following chapters guide practitioners on the parameters of the Independence Principle. It will discuss the limitations of the principle, and assess whether new exceptions should be introduced.
With English law and practice as the main focus of the work, comparisons to other major common law jurisdictions (including Australia, Canada, USA and Singapore) will be made where relevant and instructive.
The landscape of the law in this area has changed markedly as a result of judicial decisions within the last five years, including decisions of the House of Lords, the Court of Appeal and the High Court. The fully updated analysis takes into account all the important developments that have taken place in this field in recent years and will prove a valuable reference tool to practitioners and academics alike.