Textbook on Torts 8th ed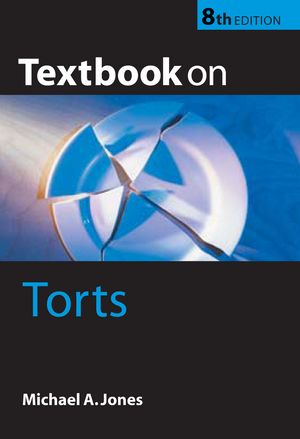 ISBN13: 9780199255337
ISBN: 0199255334
Published: July 2002
Publisher: Oxford University Press
Country of Publication: UK
Format: Paperback
Price: Out of print

This is the new edition of the well-established and widely recommended textbook on the law of torts by Professor Michael Jones. The eighth edition offers concise, yet comprehensive and accurate coverage and provides detailed analysis that encourages an in-depth understanding of this core area of law. Jones' accessible writing style is further developed within a revised page layout that enhances the clear and easy-to-use nature of this popular text.
The content of the work has been revised and updated, mapping well on to current tort courses with particular emphasis on the tort of negligence and related areas.
New to this edition is comprehensive coverage of decisions of the House of Lords, such as Phelps vs. Hillingdon London Borough Council (2000), Lister vs. Hesley Hall Ltd. (2001), and Delaware Mansions Ltd. vs. Westminster City Council (2001); as well as Decisions of the Court of Appeal, such as Kane vs. New Forest DC (2001), Fairchild vs. Glenhaven Funeral Services (2001), and Allen vs. British Rail Engineering (2001). Written specifically with undergraduates in mind, this is an essential textbook for students of all abilities following degree and CPE courses in tort law.