The European Union and its Court of Justice 2nd ed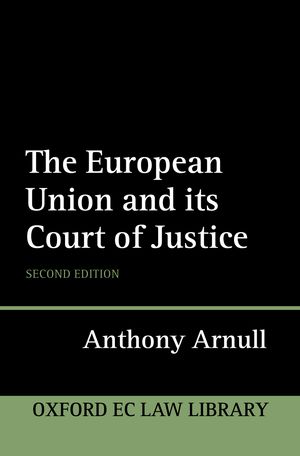 ISBN13: 9780199258857
ISBN: 0199258856
Published: June 2006
Publisher: Oxford University Press
Country of Publication: UK
Format: Paperback
Price: £53.00

Despatched in 4 to 6 days.
The European Court of Justice is a controversial institution. Its supporters see it as having played a central and positive role in shaping a polity which has given its Member States an unprecedented degree of peace, stability and prosperity. To its detractors, it has ignored the Treaties from which it derives its powers in order to pursue an agenda of its own about the political shape of Europe.
This book analyses the Court's place in the institutional architecture of the European Union and its contribution to the constitutionalization of the Union and the development of the Union's substantive law.
Questions examined include the jurisdiction of the Court; the relationship between Union law and national law; the impact of Union law on national laws concerning remedies; and the protection of fundamental rights. The book also looks at certain key areas of substantive law which have to a large extent been judicially constructed.
In the final section, some overarching themes relating to the Court's overall approach are addressed. To what extent has it evolved with the development of the Union? What has been the Court's relationship with the other institutions of the Union and the national courts of the Member States? Should we regard the central role the Court has undoubtedly played in the development of the Union as legitimate? What is the nature of the role reserved for the Court under the Union's Constitutional Treaty, signed by the Member States in Rome on 29 October 2004? The book will be of interest to anyone concerned with the development of the European Union and the role of the Court in that process.
New edition of a leading single volume treatise on the jurisprudence of the ECJ
Discussion of key issues of the Court's jurisdiction, direct effect, remedies, and fundamental freedoms
Analyses the role reserved for the Court under the Union's new Constitutional Treaty